"In the lane, I had already lost a boot and fallen on my knees so that now my trousers were soaked and one of my socks was sodden and the bottoms of both my sleeves were freezing against my wrists."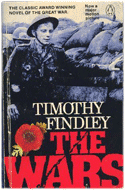 This is Timothy Findley, writing in his journal in November 1976, describing his experience in the mud.
He was researching his WWI novel, The Wars, attempting to duplicate soldiers' fighting conditions: an impossible task, but one undertaken with determination nonetheless.
He had planned to stay at the end of the lane in the mud for 24 hours, in weather and conditions which matched those Robert Ross experienced in the novel, as best as the author could replicate them.
But of course Findley was not being fired upon, and the mud "was only ankle deep and, at its worst, it rose to halfway up my shin — which is to say — I sank down halfway up to my knees".
He lists all the tasks that he carried out there and what he learned, including that it was "impossible to sleep", "being out of doors in a freezing, driving rain, when you cannot hide from it, reminds you very quickly how vulnerable your face is", "peeing is a mix of comedy and pain", and there is "nothing for the mind to do but feed on present circumstances".
[By the time I read this, in Inside Memory (1990), I had already read The Wars for the first time, but when I learned that the author had spent time in the mud to write it, I felt as if I had always known it; The Wars made for visceral and memorable reading, and that remained true for it on re-reading this month too.]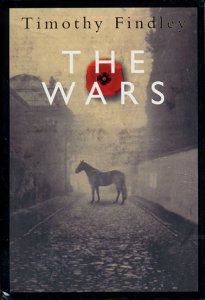 But although the author has accepted an unusual degree of responsibility for re-creating such visceral experiences for the reader, there is a great deal of responsibility left for the reader of this work as well.
In fact, the reader plays an essential role in The Wars, often being directly addressed in the narrative.
'You' make an appearance on the third page of the novel, and its final sentence is for 'you' as well. In between? More of that.
"As the past moves under your fingertips, part of it crumbles. Other parts, you know you'll never find. This is what you have."
What you have is an assembly of parts, fragments presented for you to observe, inhabit fleetingly, set aside, muse upon, revisit, and reconsider.
More of a response to this work can be read on BuriedInPrint.