An old woman for a travelling companion? You might expect what Iain Reid expected in The Truth about Luck.
"Lots of strolls, time for reading, cups of tea, ten hours of sleep per night, not too much direct sunlight, three square meals a day."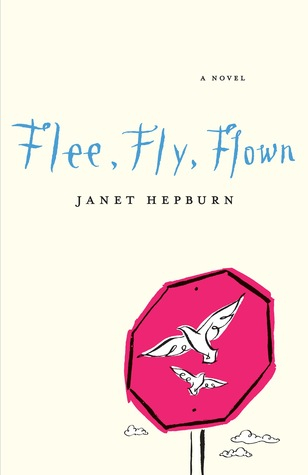 But Janet Hepburn's novel has more Jack Kerouac than Twinnings in it, more Beat than tea, more love of the open road than for three squares (though considerably less strolling and more driving).
And like Kerouac, one might wonder if Hepburn isn't most fond of "the ones who are mad to live, mad to talk, mad to be saved, desirous of everything at the same time".
For her characters, Lillian and Audrey, are residents of Tranquil Meadows Nursing Home, but they are mad to live, mad for an adventure.
"Audrey has to come with me. It wouldn't be any fun without her and besides, together we'll have better luck sorting things out. I pick up her cane and start walking, hopefully in the right direction. I've been having trouble knowing which way is which in The Home, but I'm sure that's because everything always looks the same in there. That is definitely not the case here. It is all very new."
From the start, Lillian is driving the action, often with a good dose of irony. (For instance, you can see the irony in the act of taking an old woman's cane away from her as an incentive to get her moving in the direction of an adventure, in the bold move of declaring the need for a new direction whilst acknowledging a poor sense of direction to begin with.)
Lillian's dementia does not wholly eclipse her practical side and worldly experiences, however; she is (as yet) aware of her losses and she recognizes that she needs Audrey's help as much as she wants her company.
Audrey is somewhat more removed from readers because Lillian narrates, but Audrey is no melba-toast sidekick. She is an active, enthusiastic and essential participant. (Audrey, for instance, hatches the plan which nets them a vehicle.)
"'Just talking about being young again,' Audrey says. 'It's a main topic of discussion when you're eighty years old…or ninety-eight. I think I'm ninety-eight.'
'You're not ninety-eight. The thing is, we need to get away. Every bloody day is the same. We need an adventure,' I say."

Audrey, too, has problems with her memory, but she has no difficulty remembering the same-ness that characterizes their existence in The Home. And she, like Lillian, has a sense of longing which is overwhelming at times.
This is the connection that Rayne instinctively understands when he is introduced to these travellers, who need help parking in front of the bank which will supply their getaway money.
"Audrey glances again at the young man on the bench and back at me. I see the look in her eye. Lord have mercy! The world does not need an eighty-year-old flirt."
But, quite possibly, Audrey is not, in that moment, aware of her age. Perhaps she, like Lillian, is imagining an Audrey of another time, without a mirror to challenge her assumptions.
(Lillian describes hardly recognizing herself in the present: "As I wash up, I'm surprised by the person I see in the mirror – so saggy and wrinkled, so pale.")
There are many humourous moments in the narrative (including Audrey's flirting and her hunch that she is ninety-eight years old, when she is actually younger than Lillian), but the reader always feels solidly on-board with Lillian and Audrey.
This is partly a result of the narrative being rooted in Lillian's voice directly, and partly because the matter of respect is at the heart of the story. And that's not a simple matter.
Sometimes an act of respect merely cloaks a deeper truth (in the moment and in the broader sense). "I hate being called Ma'am. It sounds so condescending, like I'm some sort of old babe who doesn't understand how busy and important others are with their whole busy and important lives ahead of them."
Rayne has an inherent respect for what (and who) has endured. Readers are not immediately aware of this (indeed, it seems possible that Rayne's initial involvement with Lillian and Audrey may have been spurned on by nefarious plans) but, as the narrative develops, and the trio's travels extend in time and space, Rayne's character develops as well.'
"'They're tearing them down – the grain elevators. I don't know much about how they grow and store grain now, but I understand hundreds of the old wooden elevators have been demolished. It seems wrong. It just feels like they need to be there standing guard over the fields and towns.'
'You hold on pretty tightly to tradition for a young guy,' Audrey says, looking at his profile as he drives. 'You love old things, admit it.'"
What might have been a band-aid solution to a narrative problem (how DOES one get two old women on a road trip without a willing and capable driver?) becomes a credible element of the story.
Although he does not articulate it clearly, Rayne embraces the idea that Lillian expresses, and inherently rebels against the idea of same-same life in Tranquil Meadows, wants to help Lillian and Audrey as much for his own personal reasons as for theirs: "Such a cruel way to finish out a life. It should be like reading a book – fine to have a sad part in the middle, but the ending should be happy."
Whether Janet Hepburn follows Lillian's advice for a good book will remain for readers to discover, but Flee, Fly, Flown has exactly the right ending for this reader's taste, when the reader is ever-aware of the question of a destination as the pages are turning.
For "the only people for me are the mad ones, the ones who are mad to live, mad to talk, mad to be saved, desirous of everything at the same time, the ones who never yawn or say a commonplace thing, but burn, burn, burn like fabulous yellow roman candles exploding like spiders across the stars," writes Jack Kerouac in On the Road.
Burn, Burn, Burned: it's not as catchy as Flee, Fly, Flown, but Lillian and Audrey's adventures explode like spiders across the stars of northern Ontario (and beyond), and readers willingly ride shotgun in Janet Hepburn's moving narrative of madness.