Sometimes the longest story in a collection has the allure of a key; I want to read it first because I believe that it, like the title story, will contain helpful hints to understanding other stories therein.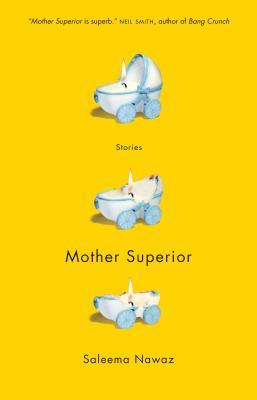 (Sometimes the longest story is also the title story: this whispers of pure enlightenment. But this rarely works out for me.)

Sometimes I resent it, particularly when by scanning the table of contents I can see that it is the only long-ish story, and I suspect that it is the novel that couldn't be.

(Woof woof. Although I don't think I have yet finished a Farley Mowat novel. And, yes, I realize this is unreasonable, and is more about marketing decisions than the author's work.)

Sometimes, as with ""The White Dress", the final story in Saleema Nawaz's collection, it is the story which cinches the deal.

Each of the stories in Mother Superior is well written. Weeks later I can recall the outline of each by scanning their titles. But "The White Dress" made me want to pick up Saleema Nawaz's debut novel immediately.

The collection opens with "Mother Superior", in which Joan "is a slut but a slut for Jesus", a wayward girl, and the narrator avoids going to hell for being a lesbian.

It is followed by "My Three Girls", in which readers leaf through a photo album of grief chronicling the loss of baby Maggie, alongside a series of images without albums.

(In hindsight, I believe this story could be the keyholder: unrealized connections and severed bonds, leavings and losses, sisters and sorrows, gaps and borders.)

Then, "Bloodlines", in which Sadhana keeps Khalsa (pure, according to Sikh law) and Beena does not, and Beena grows larger and Sadhana grows smaller, above a Montreal bagel bakery.

(I was heartbroken by one aspect of this story, which I did not fully understand until long after I had finished it. Stories that linger: I love that. Especially when they turn into novels.)

Next, "Scar Tissue", in which dinner out for two couples has Patti reliving all kinds of moments of crisis and injury and endurance.

(There are lines drawn in this story, too, characters crossing them on- and off-stage.)

An appropriate companion in many ways, next is "Look, But Don't Touch", in which Kate struggles to define the boundaries of curiosity and lust for another person while struggling with them herself.

Then, "The Beater", in which the question of how to spot a "bad man" sprawls across time and space. (Though, ironically, the story feels as though it sprawls, but it is one of the shorter tales, so the expanse is down to crafting, not page count.)

And "Sandy", in which a woman who has had too much to drink is offered a place to sleep for the night (or maybe the tenants are operating a safe house for those with nowhere else to go).

(The author skilfully presents commentary in italics which adds considerable umph to the story.)

Next, "The Republic of Rose Island", in which one sister stays and the other leaves (more leavings and losses) and some people try harder than others to make connections despite this.

And, finally, "The White Dress", in which a young girl plays Nancy Drew to learn more about her own identity and that of a near-sister she has never known.

(Did I mention that this is my favourite? And, yes, I loved Louise Fitzhugh's Harriet the Spy and Catherine O'Flynn's What Was Lost.)

I rarely attempt to summarize short stories in a collection when I chat about it (unless they are Alice Munro stories, each of which requires a separate post to even begin to summarize it). But with Saleema Nawaz's collection, I am struck by the spread of woman-soaked stories.

Like those of Audrey Thomas, they hold women in their everyday lives, in apartments and restaurants, on fire escapes and park benches. These lives are sometimes outwardly different, within this cacophony of women's voices, the characters share some of the same preoccupations.

Perhaps this stems from the author's preoccupation with "the gap between who people seemed to be and who they really were in their secret selves when no one else was around" (which makes for great fiction).

Characters are often vulnerable. "Exposed. I was terrified of being exposed."

They are caught in complexity. "No, I'll never say it's bad, but it's not good either, if you know what I mean." They try to balance memories of the different versions of people they have lost.

Contrasts are fascinating: "She said she had two words to describe the relationship: exhilarating and fraught." They struggle to negotiate disconnections, which might signal someone being lost in reveries or suffering from headache.

Losses are overwhelming: "It might be that really everybody was always leaving, that partings and separations were closer to the heart of things. I didn't like that idea at all."

Throughout, the language is often matter-of-fact, occasionally lush.

One woman's "thighs [are] swollen with goosebumps like huge pages of flesh covered in a cold Braille. A story to be felt out beneath her red halter top and the leather miniskirt ringing her hips like a blown tire."

Another might leave a room "without any explanation, slipping out in silence like a needle lifting off a record".

She moves through time and space: she lives.

"Other times she is amazed at the way a woman can move through space and time and it is just called a life. As though it were nothing more remarkable than that."

And, yet, it is remarkable. It recalls to mind this Carol Shields quote: "I don't think in terms of plot very much, very little in fact, but I think that the arc of the human life is a plot and it is enough of a plot, for me."

Saleema Nawaz's Mother Superior is a remarkable collection of lives: a cacophony of voices in short fiction.

This piece originally appeared here, on BuriedInPrint.